Gabe & I watched this movie
Felon
last night. Perhaps thats what had me thinking of corruption and other examples of how unjust the US gov can be.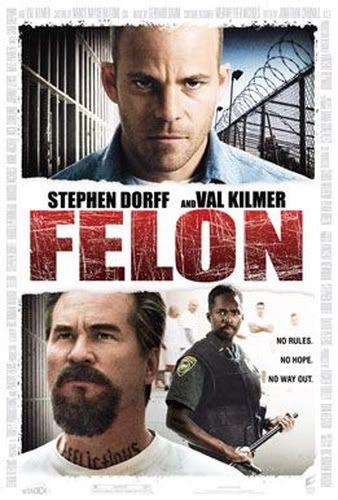 Besides the fact that I think the movie would have been WAY better if it had been Jeff Bridges and not Val Kilmer (spitting image), I still really enjoyed the film.
It reminded me SO much of my love's Papa, Arnie. ARNIE!ARNIE!ARNIE!ARNIE!
The fact is it's reality for so many people. It's maddening. These poor souls. It breaks my heart.
Arnie was taken away from his family in 1980 when Gabe was just a baby (2yrs old). Arnie was a baby himself (19/20) and he got caught up in the wrong place at the wrong time and is now doing life on an accesory to a murder. Outta nowhere the dude he was rolling with whips a gun out and kills a gas station clerk. and that's it. you're done.
I'm not saying Arnie or men like John Smith are angels, but i feel for them. I feel for their families. These 'correctional facilities' or 'secured housing units' are absurd. Absolutely cruel and inhumane. Makes you wonder who the real monsters are.
Thank SCIENCE of the USPS. The MAN couldn't keep me from getting to know my guy's Pop. We write. I'm ashamed to say I've fallen behind on writing the past month but that's OK. I have a pile of letters ready to go tomorrow.
♥Arnie lives in the SHU at Pelican Bay. He's in solitary confinment.
♥He gets one hour of 'sunlight' a day (this means he goes to an outdoor cage) and he gets to shower 3 times a week.
♥Arnie turned 50 this May.
♥He's incredibly well read.
♥He's also extremely funny, witty, sweet, creative, and kind.
♥He's an amazing artist, poet, and writer.
If you want to get to know him, and trust, he's always looking for a new friend, you can get at him through
this website
.
This is a photo taken of him in 1989. He is a LOT lighter now due to lack of sunshine...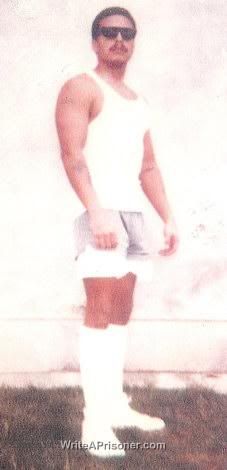 OK MAD MEN season 4 is about to begin!!!
ciao